Missouri's Beaver Creek
This creek, long a favorite with fly fishermen, is nearly rhe size of the Niangua River, but has a less constant water supply. In recent years, Beaver Creek, which flows through the Mark Twain National Forest, has become popular with paddlers, due to its general attractiveness and its good gradient. Summer floats, unless you want to wade and fish, should start in the Bradleyville area or below.
Difficulty: I and II.
Gradients: general- 8.4; Hwy. 76 to Rome – 9.3; to Brownbranch – 8.1; to Bradleyville – 7.6; to Long Creek Bridge – 9.3.
County: Douglas, Taney.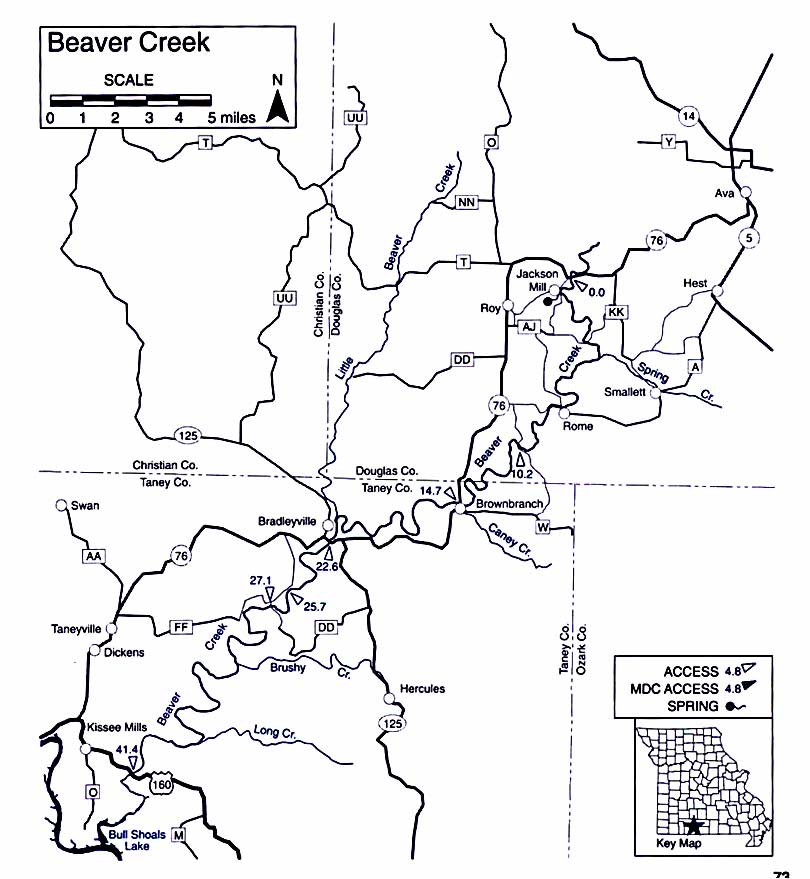 Beaver Creek – Mile-By-Mile Description
0.0 Hwy. 76 Bridge. Access.
1.0 Jackson Mill Spring and hollow on right. Old mill is gone, but mill race remains.
3.4 Low wtrer bridge 3 miles sourheast of Roy. Turn east off Hwy. 76 on Hwy. AJ. Construction features of this slab may damage a canoe or kayak. Inspect before running. It may be better to walk over.
4.2 Spring Creek enters on left.
7.7 Bridge and old mill dam, but no mill, at Rome. Portage right. No access. Private.
10.2 Low-water bridge access. Hwy. 76 is 1.7 miles northwest. Next section has some excellent fishing pools.
14.7 Hwy. 76 Bridge at Brownbranch.
14.8 Caney Creek on left.
19.8 Ford. Private access.
21.9 Little Beaver Creek on right. Possible high-water float. Lower 5 or 6 miles have gradient of 13.14.
22.6 Hwy. 76-125 Bridge at Bradleyville. Store and gas in village. Access.
25.7 Counry road along creek on right. Access.
27.1 Bridge on counry road 6 miles east of Taneyville. Access.
28.0 Road close on right.
31.7 Brushy Creek on left.
38.4 Long Creek on left. Low-water bridge and access on counry road. Hwy. 160 is 2 miles southwest. Below this point, Beaver Creek is backed up by Bull Shoals Lake.
41.4 Hwy. 160 Bridge. U.S. Army Corps of Engineers' Kissee Mills Access. Public campground below bridge on right.
This is an electronic reprint of a Missouri Department of Conservation document. More or updated information on this topic can be found at the Missouri Department of Conservation web site located at: mdc.mo.gov. Copyright 2003 by the Conservation Commission of the State of Missouri.
Go to MCFA Home Page