The Big River, like its sister tributary of the Meramec, the Bourbeuse, is slow. It differs mainly in that it flows through a more heavily populated area, yet there are many pleasant places along it. Upper sections near the "lead belt" are subject to many of the effects of urban population and are not recommended even when there is enough water to float there. Sections both above and below Washington State Park are more attractive, and the park makes an excellent base of operations for base camped floats. Old mills and mill sites add interest. The area is so close to St. Louis that it can be reached in little more than an hour's driving from that city.
Difficulty: I
Gradients: General — 2.4; Hwy. E to Hwy. 21 — 3.6; to Pine Ford Bridge — 2.2; to Byrnesville — 1.9; to Meramec River –1.5.
Counties: St. Francois, Washington, Jefferson.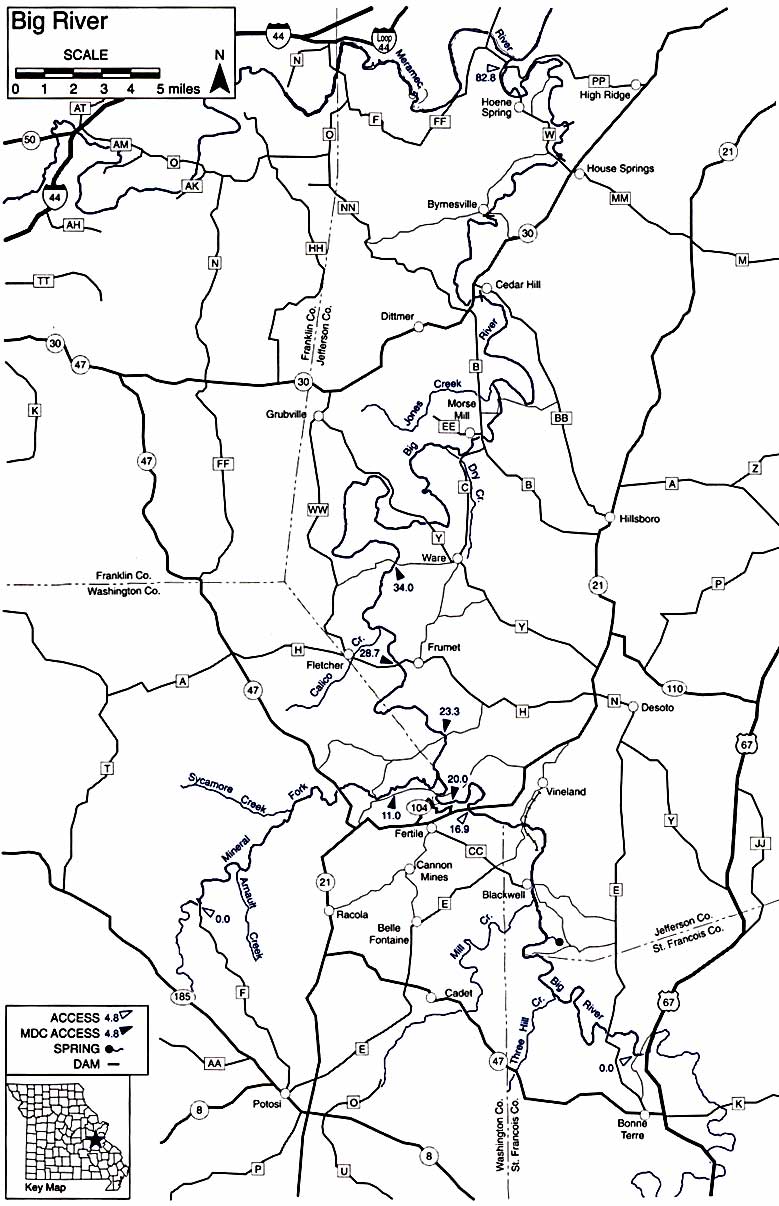 Big River – Mile-By-Mile Description
0.0 Put-in at mouth of Turkey Creek on county road running north from Bonne Terre, parallel to Missouri Illinois R.R. tracks.
1.8 Hwy. E Bridge. Access difficult due to steep slope.
6.9 Three Hill Creek on left.
9.1 Coles Landing. Ford, reached from north side. Local swimming hole with good gravel bar. Access and campsite. Private.
10.6 Spring on right about 20 feet from river and 2 feet above river level.
12.0 MDC Jeremiah Blackwell Access on right. No camping.
12.2 Mill Creek on left.
12.8 Blackwell Bridge. No public access.
15.6 Missouri Pacific R.R. Bridge.
15.7 Vineland Road Bridge. No public access.
16.9 State Hwy. 21 Bridge. No access.
20.0 Campground at Washington State Park on left with good access at one place. Park is noted for its Indian petroglyphs, located about 0.5 mile up road to left of dining room facility near campground.
20.7 Bridge on Big River Heights Road northeast of state park boundary. Private access.
21.8 Mineral Fork enters on left. This creek is considered, by reptile collectors, to be a good locality for cottonmouth water moccasins. It is often floatable and has a general gradient of about 9.
23.3 Mammoth Bridge. MDC access on southwest side. No camping.
28.5 Old Hwy. H Bridge. No access.
28.7 MDC Merrill Horse Access. No camping. New Hwy. H Bridge. Fletcher 2 miles west.
30.7 Calico Creek on left.
34.0 Brown's Ford Bridge. MDC access on left below bridge (under development).
38.6 Engleford Road. No public access.
43.4 Private access, camping.
45.0 Pine Ford (Hwy. Y) Bridge. No access.
50.7 Dry Creek on right.
52.3 MDC Morse Mill Access on right bank. No camping. Ball Memorial Park on left bank upstream of bridge.
52.4 Morse Mill Dam. Portage right. Break in dam at left near foundation of old mill is dangerous but a concrete sluice just right of this may be used to slide canoes down when the water is low enough to stand on the dam.
52.5 Hwy. B Bridge.
54.0 Cabins on left.
55.0 Klondike Road Bridge.
55.7 Jones Creek on left.
62.4 Hwy. BB along river on right.
63.2 MDC Cedar Hill Access. No camping. Cedar Hill Bridge and mill dam. Portage left. This is also the best take-out in this area. Mill, on right, still operates but has not used water power since about 1960.
63.5 State Hwy. 30 Bridge.
68.9 Private Dam. Portage right.
69.0 Byrnesville Bridge.
73.0 Hwy. W Bridge. MDC House Springs Access. No camping.
74.6 Byrnes Mill Dam. Private. Portage right.
80.9 Hoene Spring (cottage development) on left.
82.8 Twin River Bridge. Private access on right.
83.2 Meramec River.
Mineral Fork (Big River tributary)
0.0 Put-in at Hwy. F Bridge. Private land. Parking difficult.
3.0 Arnault Creek on right.
6.2 Sycamore Creek on left.
8.7 Site of old Hwy. 47 Bridge. Private access and camping.
10.2 Private slab bridge across creek.
13.8 Big River. Next take-out at Mammoth Bridge.
This is an electronic reprint of a Missouri Department of Conservation document. More or updated information on this topic can be found at the Missouri Department of Conservation web site located at: mdc.mo.gov. Copyright 2003 by the Conservation Commission of the State of Missouri. 
Go to MCFA Home Page