Missouri's Black River
The three forks of the Black rise virtually within the shadow of the highest point in the state, Taum Sauk Mountain, and join near Lesterville to flow quickly toward the lowest section of the state. The upper Black is exceptionally clear and has enough feeder springs to produce some good smallmouth bass fishing. Below Clearwater Lake, the river moves more slowly and is less clear but is still a good float-fishing stream. Some of the most beautiful scenery in Missouri is to be found in the upper reaches of the Black. This includes several "shut-ins," areas where the stream runs through jumbled rocks and potholes in gorge-like valleys. One such area open to the public is Johnson Shut-ins State Park on the East Fork. Shut-in Creek, a tributary of the East Fork, has a section which drops 70 feet per mile, but these upper shut-ins of the Black are not boatable. Mill Creek (10.7) is the best starting point during normal or low-water levels. Good camping area at Clearwater Dam.
Difficulty: I, occasionally II.
Gradients: General — 4.8; Centerville to Lesterville — 10; to Hwy. K — 5.7;
Clearwater Dam to Hendrickson — 3.9; to Poplar Bluff — 1.6.
Counties: Reynolds, Wayne, Butler.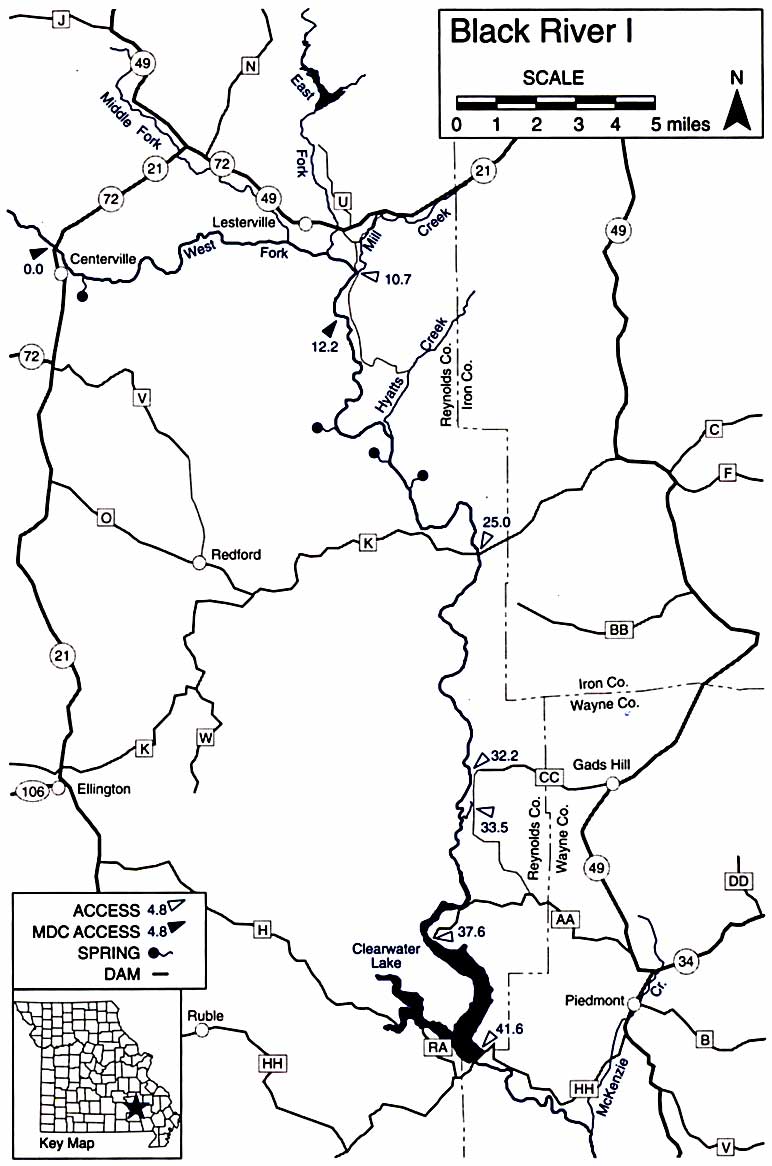 Black River – Mile-By-Mile Description
0.0 State Hwy. 21 Bridge above Centerville on West Fork. A high-water run only.
1.5 Reeds Spring on right. Adds considerable amount of water.
8.4 Junction with Middle Fork. Middle Fork can be run only in spring or high-water. Gradient – 11.1.
9.6 Junction with East Fork. A high-water run only, and quite short. Put in at mouth of Taum Sauk Creek. Not runnable above Johnson Shut-ins. Gradient – 16.
10.3 Iron bridge. Better take-out or put-in at mouth of Mill Creek.
10.7 Mill Creek on left.
14.5 Coil Bluff on left.
16.0 Warner Bay Spring Branch on right.
17.8 Hyatts Creek on left.
19.0 Spring and cave in bluff on right side.
19.7 Cave Spring 0.2 mile left, against bluff.
25.0 Hwy. K Bridge. Last take-out above Clearwater Lake when lake is at full reservoir. Possible camp sites on both sides of the river with a small spring on the west side.
32.2 Hwy. CC. Access road.
37.6 Picnic area at Clearwater Dam. Take-out or portage left around dam.
46.2 McKenzie Creek on left.
47.5 Spring 0.1 mile west of river on right.
48.6 Leeper. State Hwy. 34 Bridge. No access. No camping.
50.6 Hwy. 49 Bridge at town of Mill Spring. Camping.
56.4 Granite Bend. R.R. close on left.
59.4 Markham Spring Branch on right. USFS area fee camp and free access.
59.6 Browns Crossing. Hwy. A Bridge and take-out. Camping (fee).
62.4 R.R. bridge site.
63.1 Williamsville Bridge. Road connects with Wayne County. Hwy. A and Butler County JJ.
66.9 Keener Springs Resort. Fee access, camping.
70.1 U.S. Hwy. 67 Bridge. Unimproved access.
79.1 MDC Hillard Access at Hwy. W. No camping. River flattens from here on.
81.3 R.R. bridge.
87.3 MDC Sportsmens Park Access on left. No camping.
88.3 U.S. Hwy. 60 Bridge in city of Poplar Bluff.
This is an electronic reprint of a Missouri Department of Conservation document. More or updated information on this topic can be found at the Missouri Department of Conservation web site located at: mdc.mo.gov. Copyright 2003 by the Conservation Commission of the State of Missouri. 
Go to MCFA Home Page