Missouri's Bourbeuse River
Although the Gasconade has the reputation for being crooked, the meandering of the Bourbeuse is more extreme. It winds for nearly 100 miles with an airline distance of only 27 miles, all of it within Franklin County! This is a relatively small, slow river which is not as clear as many of the streams farther south. Yet it provides some rather good bass fishing, has many picturesque features and is surprisingly little cut up by roads crossing it. It is seldom floatable in summer above Bartel Bend (Hwy. H) and becomes rather "civilized" beyond the first Union Bridge.
Difficulty: I
Gradients: general – 2.4; Hwy. 19 to Bartel Bend – 3.9; to Hwy. 185 – 1.7; to Happy Sock Creek – 2.3; to Meramec River – 2.1.
Counties: Gasconade, Franklin.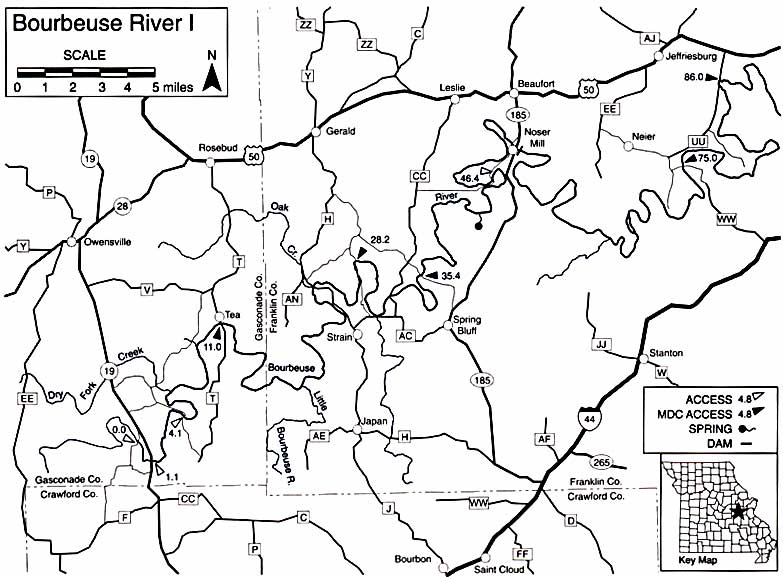 Bourbeuse River – Mile-By-Mile Description
0.0 State Hwy. 19 Bridge. There is another bridge 1.1 miles upstream, reached from Hwy. 19. Both are possible put-ins. 3.0 Low-water bridge. Hwy. 19 is 2.8 miles west. Access.
5.4 Dry Fork enters on left.
9.9 MDC Tea Access on north side of river. Hwy. T runs north from Tea to Rosebud on Hwy. 50.
23.4 Hwy. H Bridge. Poor access.
27.1 MDC Mill Rock Access.
31.3 Champion City (Hwy. CC) Bridge. No access.
41.8 Roaring Spring on right.
45.3 Peters Ford, reached by county road from Hwy. 185 at Noser Mill, which is 2 miles northeast. Access. County road right of way only.
51.3 Greenstreet (cabins) atop bluff on left.
52.4 State Hwy. 185 Bridge at old Noser Mill. Summer community here is called "Eastwood." Low mill dam. Private – no access.
73.9 MDC Reiker Ford Access. Roads to both sides of river. Cabins on right.
84.9 MDC Mayers Landing Access. Hwy. UU parallels river on left.
87.9 Bridge. City of Union one mile northeast. No access.
89.9 Happy Sock Creek on right.
93.3 U.S. Hwy. 50 Bridge at Union. MDC Union Access. No camping. Ramp.
95.8 Chicago Rock Island R.R. Bridge.
96.8 Guths Mill Dam. Portage.
100.3 R.R. recrosses river
102.3 U.S. Hwys. 50 and 66 and I-44 bridges.
107.6 MDC Chouteau Claim Access. Junction with Meramec River.
This is an electronic reprint of a Missouri Department of Conservation document. More or updated information on this topic can be found at the Missouri Department of Conservation web site located at: mdc.mo.gov. Copyright 2003 by the Conservation Commission of the State of Missouri. 
Go to MCFA Home Page